"Before we started using Protrak, local alignment shops were aligning our trucks, and we were not satisfied. We were lucky to get 65,000 miles on a set of steer tires. We started with Protrak in February 1997, with a fleet average of 63,000 miles for steer tires. Now that average has come up to 90,000 miles."

Jim Wordekemper, Shop Supervisor
Affiliated Carriers, Norfolk, NE
PROTRAK LASER ALIGNMENT SYSTEMS
Now, you can rapidly and accurately check the alignment on trucks and trailers with the high-quality Protrak Laser Alignment Systems.
For less than $8,000 you can have the reliable truck or trailer system that empowers you to quick-check alignments without a rack. The system allows you to discover the source of tire wear and handling problems, while the drivers watch!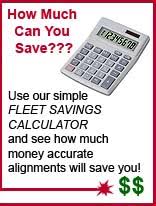 Each strong, easily carried system features:
Goes TO the vehicle
Professional-Grade Gunsight Lasers
100-hour brand-name batteries
One free year of repair or replacement assurance
Easy to use features that you can begin using Day One
Find the Protrak Laser Alignment System that is right for you!
Protrak QCT
Perfect for heavy trucks and trailers
Protrak QCTXL
Extra Large Heavy Duty Trucks
M.D. Alignment Services, Inc.
4431 NE 50th
Des Moines, IA 50317
(515) 265-1177 * FAX: (515) 515-265-9986
1-800-617-5592 * Tech Line: (515) 967-5626
Email: John_Jorgensen@mdalign.com

Internet services provided by...
IoWeb Publishing, Inc.