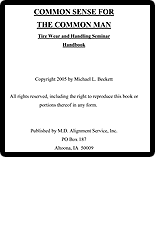 Common Sense for The Common Man
This is a book drawn from seminars that we conduct for Truck manufactures, Tire manufactures, axle manufactures, and the field reps for these companies. If you want to know what the experts are taught. This is the book for you.
This book comes in both hard copy and electronic download version. Hard copy version require $6.00 USD per book and shipping time to arrive (shipping outside the US price TBD), electronic downloads will be made available immediately after payment is received without any shipping fees.
HARD COPY BOOK(S)
Requires $6 per book to ship
(shipping outside the US price TBD)

ELECTRONIC BOOK
No shipping - download immediately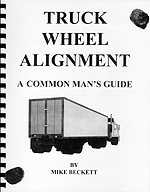 Truck Wheel Alignment
A Common Man's Guide
Much can be said on all aspects of alignment and tire wear, although this valuable tool is not the 500 page dissertation it could be, it does cover all the major aspects of alignment. With this book, you will see your time spent on more important aspects of your business than tire wear problems.
HARD COPY BOOK(S)
Requires $6 per book to ship
(shipping outside the US price TBD)

ELECTRONIC BOOK
No shipping - download immediately

"...it's written in a folksy tone...thorough and easy to read. One of the best things about A Common Man's Guide is the occasional handy tip picked up by [Mike Beckett] over the years. ...if you like it, send him [the price]. If not, just ship it back. I'm betting you'll keep it."

- Paul Richards
Managing Editor
Commercial Carrier Journal
May, 1996
"Finally after thirteen years of fighting uneven tire wear and alignment problems, I have found the best thing to happen in that department - M.D. Alignment. What you guys have done for us will not be forgotten, because now we have the book.

Thanks to your techniques and support, our diagnosis and repairs are all done in-house, with excellent results and less headaches."

Bill Harris
William Harris Trucking, Inc.
Shawnee, Kansas

Other products available: