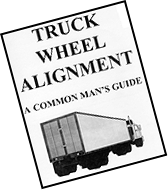 Truck Wheel Alignment
By popular demand, a video version of our valuable book is available for you to have and study. All the concepts and techniques we talk about in our book are demonstrated on this tape.
This thrity minute video will become a very valuable addition to your company's library. Used in conjunction with our book, this video will make you an alignment expert in no time!

As an example of how easy-to-follow our videos are, watch Mike Beckett explain and demonstrate the laser wheel alignment process. Click on any video below to start them.

"As the owner of a mobile alignment service and tire consultant to large fleets, I can tell you that the results from the Protrak alignment system have been outstanding. Having worked for a large fleet that was one of the first companies to purchase the Protrak system, the increase in tire wear and decrease in driver complaints was truly amazing. Tire wear and handling issues would vanish after we used the Protrak. The same results hold true today for the customers of my mobile service and, as a tire consultant, one of my first recommendations is the customer buy a Protrak."

Marshall McCoskey
Lazer Alignment Equipment
Omaha, NE

"Probably one of the main reasons I like this system's original price is it is [about] $50,000 less than the computer system I'd get for our garage.

"And it is set up in a way that I or any of the employees can run it and understand how it runs and can calibrate it ourselves. It's a straightforward system and, so far, it has been getting good results.

"We hear a lot of good stuff from our customers. We started on a couple of local fleets which are now having us exclusively do their alignments. These two fleets total up to 40 tucks.

"Really, this thing sells itself just through word-of-mouth!"

Joe Pratt, Owner
Pratt Truck Service
Blackfoot, Idaho

Other products available: